If you do NOT already have a FolensHIVE account:
See here for instructions on how to register for the first time using an eBook Unique Licence Code (you can register for more eBooks after this within the app- see below).
If you already have a FolensHIVE account:
Visit www.folenshive.ie and click/tap Log in (if you are already logged in you can skip to Step 3).
Enter your username and password and click/tap Log in.
Click/tap the drop-down menu at the top-right of the screen, then click/tap Account (this might also say 'My Account' or 'Manage Account').
Input your unique eBook Licence Code for your eBook in the Add Access Code field (including hyphens) and click/tap Add.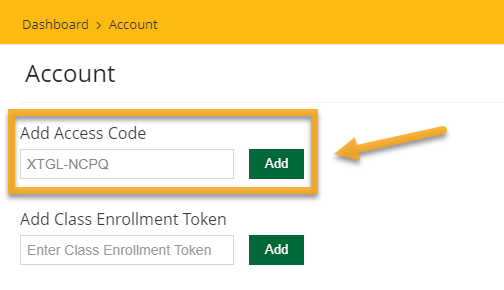 That's it! Your eBook is now added to your account and you will see it in your Library. You can repeat this process for any additional eBooks that you might have.
Please note that both valid 8-digit and 16-digit codes are accepted, as printed.
If you run into any difficulties we will be more than happy to help- click here for assistance.