1. To access FolensOnline resources, we ask for booklists to be sent in on a yearly basis- so that we can update your school's access, ensuring you do not miss out on any digital content relevant to the Folens schemes in use at your school. These can be submitted via our Booklist Wizard.

In the instance that a school booklist is not used or implemented, we can also accept an invoice or receipt showing the books in use at your school.
2. If booklists are sent in to us, and you still do not have access, you may be registered under a different school. To check this, you can see which school you are registered under at the top-right corner of your screen: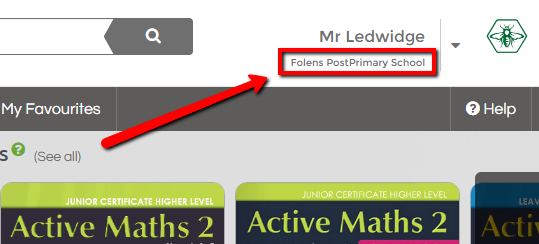 3. Lastly, if using a shared computer, make sure you are logged in using your own account. This will avoid any confusion and ensure that you can personalise FolensOnline to your requirements. See here for instructions on how to view or edit your profile.
As always, feel free to ask for help using the green Help ('?') button on the bottom-right corner of your screen.